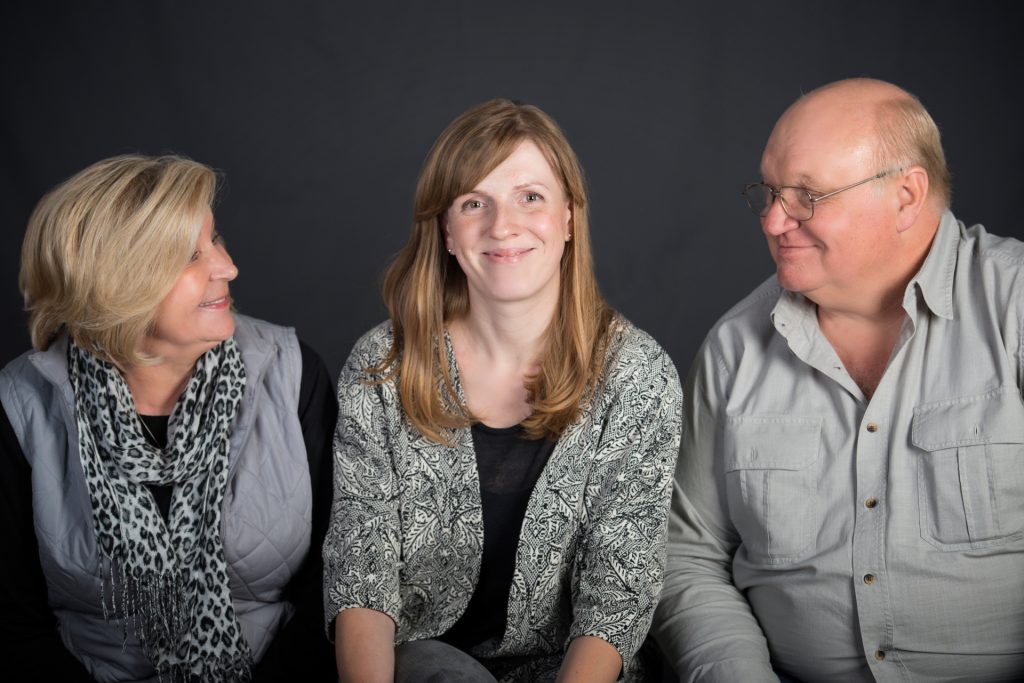 Krystyna Bytof, Aleksander Bytof and Magdalena Szymańska photography by B. Ostrowska
Magdalena Szymańska

My first destination for emigration was the United States. I left for the USA after completing my fourth year of university in 2004. I wanted to combine studying sociology with professional sports – track and field. I found a university in New York that offered me a scholarship. I felt uneasy at first, but everything changed when I met other foreigners on campus. After a year, I hated having to say farewell to my friends, the city and college. I returned to Poland to defend my MA thesis.
After coming back, I deliberated for a few years on leaving again – this time for the UK. I wanted to use the professional experience I got in Poland in an English-speaking country. Being able to legally find work there was a great advantage. When I met my husband, a Pole who had already been living in the UK, I decided that going there was worth it.
We returned to Poland together. After coming back, I gave birth to our daughter Julia and, after four years, to our son Cezary.

Krystyna Bytof

I was born in Cracow. I came to Chicago in May 1986 on a sightseeing trip. Shortly before returning home, I met Aleksander, and I stayed with him in the States all the way till 25 April 2015. 26 April marked my next emigration – to Gdynia.

Aleksander Bytof

I left the country in 1980. I sailed off from Nabrzeże Węglowe of the Gdynia port on a PŻM (Polish Steamship Company) ship. I reached the States on 17 November 1980 and settled in Milwaukee, Wisconsin. After spending three years there, I moved to the neighbouring state of Illinois, to Chicago. I stayed there until 25 April 2015. I returned to Gdynia on 26 April 2015. For the time being, I am not planning on emigrating again.

Reportaż Magdaleny Świerczyńskiej-Dolot o Krystynie Bytof
Magdalena – Różne reakcje na powrót do Polski
Magdalena – Rozważania o przyszłych wyjazdach
Aleksander – Returning to a changing homeland

>>> Read the transcription
Aleksander - Returning to a changing homeland
T– I would often return to the country on holiday and I would always come either twice a year for two weeks or once a year for a month, and I would watch the changes. And the same thing that was here in the beginning was the thing that made me return. When I came back, I felt it again, "Well, he's back and now he's being arrogant". I am not being arrogant, no, I simply came back, I have never spoken ill about Poland but I've always remained optimistic, thinking it would get better. And being here and seeing that things were changing was one of the reasons why I came back, what else can I say. I tell you, some things will always go a bit wrong when the system is changing, there will always be something.
– How about we talk about something positive, we've been talking about the things from the States that you miss. And what Polish things did you miss back there, things that could be brought over?
– Now that's a question. What could be brought over from Poland? Well, you couldn't really bring anything over from Poland because the States are a country that has it all. There's everything there. The only things that aren't there are things that don't exist. There's everything there. The only thing, let me put it like this, there sure aren't any old towns like the ones here. For example, you could not move Cracow there. Nobody could move old towns there. That country is built totally differently. You gotta enjoy the things you have there.
Aleksander – Waves of repatriation

>>> Read the transcription
Aleksander - Waves of repatriation
I've met people who did not like Poland, people who said they would never want to go back to Poland. But I always said that it was just a period of emigration, 5, 10, 15, 20, 25 years, and I've said it many times – if you spend as much time here as me, you will want to go back home when you get old. And a great many people, well, they matured to that. And I've known them for 30 years, some for almost 35. No, they would never return, and they had come back before me. I mean, they had come to Poland before me. They packed up, saw that they would be financially okay. We have friends who were like "What are you talking about? To Poland? Why would you go there?" And they had come back two years before I did. And it's all so... it seems to me it's our national thing: defiance, complaining, for me, those are our national traits.
Magdalena Świerczyńska-Dolot's documentary on Krystyna and Aleksander Bytof

>>> Read the transcription
Magdalena Świerczyńska-Dolot's documentary on Krystyna and Aleksander Bytof
Magda Świerczyńska-Dolot: Good evening, this is Radio Gdańsk and I am your host, Magda Świerczyńska-Dolot. You are listening to another episode of "Emigrant's Diary". In this programme, we learn the stories of Pomeranian Poles who left the country for any number of years, for different reasons and in various circumstances. On today's programme, you will be listening to Krystyna and Aleksander Bytof, who have recently, in April, come back from Chicago and really wanted to share their story with me. I visit them in Gdynia, at the house of their mutual friend, who is living in Germany at the moment, but, as I am told, wants to come back to Poland eventually. This is where the couple spends their time while their own flat is being renovated.
Krystyna Bytof: Coffee? Tea?
Magda Świerczyńska-Dolot: Tea, please.
Krystyna Bytof: The things they say in the States, how terrible it is here, right. I think they are exaggerating because it's not that bad. I mean really, when it comes to public offices, everyone is very nice here. We haven't encountered anything unpleasant. Sometimes we might have, but they are very helpful, very nice people most of the time.
Aleksander Bytof: We had to have our ID's issued here, register our place of residence, get our personal and household effects and register our cars. So there were many things that needed to be done. Get some insurance, first and foremost.
Magda Świerczyńska-Dolot: Krystyna and Aleksander returned to Pomerania on 26 April this year.
Krystyna Bytof: We have already managed to tour Poland a bit, to see some of it. Amazing, really.
Aleksander Bytof: We went on a tour around Poland in April to see it, because in Chicago, the largest… the city with the largest Polish community actually, with more than a million Poles living there, or people of Polish descent, well, the opinions on Poland those people have back there are a bit negative. When we returned in April, the first thing we wanted to do was to travel around Poland a little, we'd heard a lot being said on the Polish radio in interviews and whatnot, about how Poland was in ruins, how there were no roads, about the terrible poverty. So my wife and I decided to get into our car and go. Since April, we've hit 15 thousand kilometres. There are villages that should be renovated as soon as possible, but if you look at the rest of the country like Zakopane or the southern parts of Poland, for instance, you can't see that poverty there. And the roads really are very nice I think. The people who complain the most are those who, I don't know, probably don't do anything themselves, who don't want to do anything and yet want to have it all.
Magda Świerczyńska-Dolot: Are we going to go into the room?
Aleksander Bytof: Yes, let's. Enough of this kitchen.
Magda Świerczyńska-Dolot: We sit comfortably in the armchairs in the living room. May I sit over there?
Krystyna Bytof: Yes, yes, yes. By all means.
Magda Świerczyńska-Dolot: Krystyna comes from Cracow. She moved to Gdynia with her husband.
Krystyna Bytof: This is another emigration for me, actually. I need to relearn things. But I think that, if I made it in Chicago, I can also make it in Gdynia. There don't seem to be any problems here. Like I said, I don't know Gdynia yet, but it's a really nice city, really. We used to come here every year as a matter of fact, but there would never seem to be enough time to sightsee. Now, I really see that it's a very, very beautiful city. Though, like I said, my Cracow is also beautiful, I went there – and I could not recognise it. Even though I visited it three years ago, it had changed so much that I was plain shocked.
Magda Świerczyńska-Dolot: Aleksander left Poland in the 80s, before the martial law.
Aleksander Bytof: I worked aboard Polish ships. I was on a ship sailing to the States and it was really an accident that I stayed, I was talked into it by a friend who lives there to this day. He lives in Pennsylvania, he was a young guy, he talked me into it and we took the risk because I had had some experiences in 1970 in Gdynia and it wasn't getting better, it wasn't really getting any better. And, you know, youngsters, everyone is curious about the world at a certain age. Too bad I didn't leave, I myself had to leave my job abroad, and it kind of was a sore point for me. But believe me, there was no other possibility to stay back then. So when I made my decision, I had thought it through. The first steps were far from stellar, it was really tough. I didn't know the language. I had to get by, I didn't know anybody. I had no friends, no acquaintances, no family. I didn't know anybody. I actually lived on the streets, but thanks to this, you know, enterprise, it all panned out somehow. Of course, the first months were very tough. I got my first job... Actually, I decided to stay on 17 November and started my first job on 31 December. The winter was very harsh. I had to walk 16.5 miles back home from work every day. And I didn't have any good boots or a warm jacket, but I had to walk anyway. I had to walk in the snow in my moccasins, but I walked up some money that way. The job, well, I started at a hotel just like everybody else I think, a hotel-restaurant where they had like 150 rooms to service every day and they would serve breakfast-dinner-supper, and I would start at 12.30 PM and finish at 12–12.30 AM. The city I stayed in is called Milwaukee, it's in Wisconsin. It took one and a half years for the idea to mature that I had to move away from there, because it was really… the people might have been great, but they were inert, and since I had decided to stay, I wanted to see more of the country. And the idea of going to a larger city somewhere started to grow inside of me. And so, the first one, the closest one, is around a hundred miles to the South of Milwaukee – Chicago. So I went on a recon mission to Chicago, and then another one. So, after a few such visits, I found a Polish community there, and after 3 or so years, I moved to Chicago for good. I wanted to eventually go to New York or maybe Los Angeles, San Francisco, but I got a pretty good job, I started going to school to learn the language. I got my first job, then another, then one that was better and I gave up on that, because what I had had in mind was to go to New York, San Francisco, Los Angeles or someplace like that, maybe reacquaint myself with the sea. But my being a sailor was limited to Poland. That was the only way to see a bit of the world. And since I could get by pretty well on land, I could afford going on holiday, I decided – I'm staying in Chicago. Then I had a stroke of good luck. I got a job I would hold for 26 years.
Magda Świerczyńska-Dolot: Even though he was happy in the States, Aleksander does not deny that Poland was always somewhere at the back of his mind.
Aleksander Bytof: I was a member of a number of Polish expat organisations and in one of them, which I have fond memories of, it was called "Pomost" (Bridge) – it was a political organisation for young expats. The people there wanted to do something for Poland and I mingled with them, but my moving to Chicago interrupted that. That organisation also had a branch in Chicago, but I had a serious job there. I had to really apply myself, there was no time for that. Though, I did participate in a club called "Wisła" – it was Polish expat football club. I met many nice, many great people, I still have fond memories of them. I've never had any complaints, never said an ill word about the country because it did a lot for us, gave us a lot, how should I put it, a different mentality, it changed that mentality. Though, when you hear them, I did not denationalise myself and I'm not one of those people who can't speak Polish, because we know people who can't speak Polish anymore after 5 or 8 years. It's a country that can be really shocking.
Magda Świerczyńska-Dolot: Aleksander and Krystyna met in the States on accident, via a mutual friend. You could say it was love at first sight.
Krystyna Bytof: I went to the States simply to see the country. I wanted to see it because I got a visa. I was really bewildered that they gave it to me. But they did, in 1986. They really did give it to me, I really did go to New York, to Washington, to the Niagara Falls, Pennsylvania, Philadelphia. I stopped in Chicago at my brother's wife's sister's, and I would just travel like that. And, in the meantime, I met Aleksander, who said I could stay. He said he wanted my hand in marriage. Another argument was, my brother was supposed to come over in 1987 and his brother too and Aleksander said "That's when we could get married, you know. Some of our family would be there". It was a very, very difficult decision. Really, because I missed Poland. I had never thought I would stay there. Never. And I was so torn between Aleksander and Poland. And it took me a while to decide. We lived together of course, but we only got married 4 years later, because I couldn't just go to Poland. Only a wedding and getting a green card could... I could go and come back. It was a terrible battle against myself. And I had of course lost a very good job here at a design studio as nobody would wait for me for who knows how long. It was a terrible battle. But Aleksander won, so we stayed in America. And it was nice, really nice. First and foremost, the most important thing is, we learnt tolerance. It was our greatest success as the Poles here are not tolerant at all. Back there, everyone is equal, nobody points any fingers because of where you come from. I would love for Poland to be so tolerant. But it's still a long way to go. I could not really get by at the start, you know. I tried, I created my own Polish house, because it was a Polish house. Polish was spoken there and everything was Polish. Our Polish friends, of course we also had American friends who would come over, they liked it a lot, they enjoy hospitality. But like I said, the majority were Poles. We would meet up, you could say we even threw parties – everything took place in Polish clubs. Sometimes in American ones as well. But like I said, Poland is still alive in Chicago, so apart from our family, I felt like in Poland, when you walked down the street to Milwaukee, you could see shop after shop, Polish shops, Polish shopkeepers. You didn't have to know the language at all back there. Poland was there. But our family wasn't. That was the deal breaker.
Aleksander Bytof: The first idea regarding coming back came to me after about 25 years of being there. No, no, I did, I did, I would come visit. I first visited Poland after exactly 11 years, after the regime changed. So when I came here for the first time, I'll be honest, I was shocked because in Gdynia, I visited Gdynia, I mean I took a LOT (Polish Airlines) flight via Warsaw. I flew to Gdańsk from Warsaw. When I went out in the evening, it was 1990, my mum was still alive back then, it was really grey. It was terribly depressing. When I came from Chicago, which is a really beautiful city, when I arrived in Gdynia, I felt like crying. There was a saying in the expat community: you become a real emigrant only after your first return to your homeland. I knew I shouldn't think about returning just yet, but I had those, you know, those first... I was in the county, I could see what was happening. It was gray and brown, filthy, dangerous. People shut up in their homes. There was no street life at all, you know? Unlike today. We went back in 1990, but 1991 made me come back to Poland, my mum had died in March and I came just to attend the funeral. And I thought to myself, well, I still have one brother, right? That's what I was thinking, you see. That's what I was thinking, but I told myself I wasn't coming back just yet. For the time being, I was going to stay there. And we would come every year to... to see the family. And things would get better. Things would get better. And eventually I said to myself, it was in 2000 actually that I said we might return. Well, maybe, I don't know if I.... but 2005 was the year we said – for real, we're going to return when we retire, 100% sure of that. The plan was to come back a bit sooner than that, but some health issues held us back, unfortunately. Held us back two years. And the real estate crisis, we had bought one flat, two flats, three flats there and we lost big time, and you could not just give them to someone for safekeeping, nobody would take care of that like we would, right? So when we were finally able to get rid of two flats, we decided that we would keep one for ourselves just in case... And we started to slowly pack our bags. And so, the day of 25 April came and we took off. We bought one-way tickets. So we knew... I left my very nice job, it was very nice, nobody in the company wanted to believe that I was leaving, that I was quitting, that you could quit at that age. They weren't prepared. Nobody believed me.
Magda Świerczyńska-Dolot: Coming back to Poland wasn't easy.
Krystyna Bytof: On the one hand, we were happy to be back, but there were tears as it was quite an experience after all. Leaving after so many years. It was an end of a certain chapter. It was all very emotional, even leaving the house, locking the door and not knowing when we would be back, right? It was very emotional. Really. Though like I said, on the one hand, we were happy we would be back home, but it was very emotional, because we were just leaving behind quite a few years of good life there. So for me, my whole life is somewhat emotional actually. Staying in America and now coming back here, leaving America again. So I think leaving America was much more of an emotional experience than... like I said, when we would normally come here to Poland, it was normal for us to stay for long here, but knowing that we would not be back in America in a month, that was quite an experience.
Aleksander Bytof: And boarding the plane, the take off, I'll be honest, I do not really remember any of that, it was such a shock, you know? What was the hardest? The hardest part for me was when we took off from the runway. I mean, it's been difficult to this day because like I said, my life in America was really nice. But then I came here and had to... And when I got off the plane in Gdańsk, I got all hot. I didn't really know how to behave, you know. That I would not be going back. That I didn't have a ticket back for a certain day. And it was an experience, but you know, I'm sure we experienced it differently, we already had our own flat. We came to our own flat. We had bought a flat 5 years before and when we arrived, we knew that we would go home, turn on the water valve, take a shower, bathe, everything at home. We would go shopping the next day, but it was totally... I'm sure people who do not have their own flat experience it differently. They would have to find one or stay at someone else's. Well, it was all too fast for me. It was too fast, it was too much. Too much to take in all at once.
Krystyna Bytof: For the first month, we had the impression that we did not have to pack anymore, that we did not have to go anywhere, that we weren't going back to the states from holiday, that we were still here. So yeah, nice. Really nice.
Aleksander Bytof: I believe that I chose this fate for myself; those years were wonderful. I can't complain. I'm really happy that I did not burn any bridges. We can go there anytime and we probably will eventually, because the States are a beautiful country. We're going on holiday to the States next year. I've been in love with that country to this day, and one day, if I get the chance, I'll play a song someone made and which became a kind of anthem of mine:
[Lyrics: So many years have passed since I left to see the world, you were always the good in my life. My time is running out, I will leave you now, I gave my youth to you. O, America, you are like a green and blooming May. O, America, for me, you've always been a dreamlike paradise.]
Krystyna Bytof: I am very happy to be back. Like I said, when it comes to my return, the most important experience was seeing my house full of boxes. Eventually, a company came and took them away and the house became somewhat empty. And it was for real – it was settled, we knew we were leaving, our bags were packed. We sometimes go back to those moments and it brings tears to our eyes. What else can I say? But we're living the local life now, so I'm sure we'll go for a visit, yes.
Aleksander Bytof: What's important is that we have a lot of catching up to do. That's what I think at least. I have a lot of catching up to do. I have quite a large family. I haven't had the time to visit them all. And I don't want to miss it because believe me, some are of the age where you have to hurry. So the first thing I did over the first few days was visit the oldest ones. But now I'd like to go and stay a while, sit down and chat. It's impossible to fully catch up, but we will try to do it all so that it all makes sense and is all good, right?
Magda Świerczyńska-Dolot: Experiences, memories, ups and downs. Krystyna and Aleksander brought all of that back to their homeland. How did emigration benefit them?
Aleksander Bytof: Well, emigrating benefited me a lot when it comes to say, meeting ethnic groups, meeting other people unrelated to my culture, the Polish culture. And you could make friends with each and every one of them. And you have to believe in others, believe that they're good. Not everyone is a bad person. And the most important thing for me is that I can find my way around everybody and find a common language with them. I will never point towards anyone and say – look, a black guy, look, a Chinese guy, or anything like that. No. You never know, maybe that person is actually very nice. And here I do see, I don't know, I always call it parochialism. See a Vietnamese, what is he doing here? Right? Poland for the Polish. The world has changed a little, am I right? And nowadays this slogan, Poland for the Polish, it's seems so stupid. Say you interpret it like the people who chant it, right? Because Poland for the Polish, yes, let Poland be for the Polish, but Poland must also be open for other people, because we have also been shown hospitality somewhere. Nobody would yell at us that the States are only for Americans. They always say – oh, the only Americans are the Natives, the real Americans... no, that's just a minority. Millions of people live there. 310 million people live there. And I don't know if even 10 million out of those 310 million are racist. They show hospitality to anyone. Americans are an absolutely wonderful nation. But it needs to be noted that, well, they had to work to achieve it over many years.
Krystyna Bytof: Well, when I look at Poles, it seems like they can't really smile, they are not open. They are different than, say, the people I met back there. I don't know why. Sometimes they may be too proud while lacking substance and they believe that if they're Polish, everything they do will be forgiven. And that's not the case. There are different people in this world after all, and you need to tolerate them, and you have to be open for them, other people are kind of like us. It's nice that we're proud of being Polish. Really nice. But let's open ourselves for other people.
Magda Świerczyńska-Dolot: This was "Emigrant's Diary", our guests were Krystyna and Aleksander Bytof, who, after spending years in Chicago, returned to Poland and settled in Gdynia. This programme is brought to you in collaboration with the Emigration Museum in Gdynia as part of the "Ask about Poland" project. Stefan Kotiuk – director and Magda Świerczyńska-Dolot, thank you for listening. We wish you a good night, until next time.
Magdalena Świerczyńska-Dolot's documentary on Magdalena Szymańska

>>> Read the transcription
Magdalena Świerczyńska-Dolot's documentary on Magdalena Szymańska
Magda Świerczyńska-Dolot: Good evening, you are listening to Radio Gdańsk and this is another episode of "Emigrant's Diary". I am your host, Magda Świerczyńska-Dolot. This programme introduces people who left Poland in various circumstances and for various reasons. They all met thanks to the "Ask about Poland" project by the Emigration Museum in Gdynia. On today's show we have Magdalena Raszewska, who has lived in the UK for three years, and a year in New York before that. She returned because... Exactly, why? This episode will answer this question, happy listening.
Magdalena is mother to Julia and Cezary. The two children are taking up all her time. Her husband, also an emigrant, travels for work. He has his phone with him at all times. They never know when a call may come in. I wanted to speak with him as well, but I was unable to do so because of his work. Still, Magda's story piqued my interest. Especially the reasons why she emigrated and why she returned to Poland. I admire her resolve and pursuing her goals. We meet up at her in-laws', where she lives with her children and husband.
Magdalena Raszewska: And this is Julia. What do you say, Julia?
Julia: Good morning.
Magda Świerczyńska-Dolot: Hi, how old are you? Can you tell me?
Julia: I'm four.
Magda Świerczyńska-Dolot: And what are you doing now?
Julia: I'll go downstairs and eat an egg later.
Magda Świerczyńska-Dolot: Who lives downstairs?
Julia: Grandpa and grandma and Konrad, Uncle Konrad.
Magdalena Raszewska: This is Cezary. Cezary is exactly six months old.
Magda Świerczyńska-Dolot: Magda is brewing coffee. Coffee always brings people together. How long have you lived here in Wocławy?
Magdalena Raszewska: For four years. Since we returned from the UK.
Magda Świerczyńska-Dolot: Where did you live before that?
Magdalena Raszewska: In Gdańsk in Orunia Górna and for a while in Wrzeszcz, as I moved like four times in the year before leaving. When I knew I would be leaving, I stopped renting a flat and just went back to live with my parents for a month or so. I also crashed at my friend's place for a while. A lot of things changed back then. If it's too weak, I'll pour you some more water because it shouldn't be weak.
Magda Świerczyńska-Dolot: Magda is no stranger to leaving for faraway places and for long periods of time.
Magdalena Raszewska: I went to the States in my fourth year of university. I knew there were sports scholarships offered by American universities and it just so turned out that I did sports. I started late, much too late, in high school, track and field, I had wanted to try much earlier, but it so happened that I joined the club late, and of course I wanted to get such a scholarship. A good friend of my dad's had lived in the states for some twenty years and she helped me a bit by asking around and finding a website which listed universities by the activity they sponsored students in. And I contacted each and every university, there was a few hundred of them, that sponsored track and field athletics. And like, I don't know, twenty responded? Later on I started to seriously mail with a few of them, and it turned out I had a few options to choose from.
Person 1: Who is it, Cezary?
Magdalena Raszewska: Working your magic, yes?
Magda Świerczyńska-Dolot: You chose a university in New York.
Julia: Music plays if you pull it.
Magdalena Raszewska: So I went there for a year, but I had known in advance that, being in my 4th year, my age was pretty advanced for such a scholarship at an American university. Many people would go there straight after high school and I knew I wasn't going to stay for long, only for a year. Another thing that worked to my detriment was that I had already been participating in university competitions for four years and that prevented the university from giving me a scholarship for more than a year. And so I went. It was not a difficult decision to make, but I did have regrets, I was leaving behind, in addition to my family, my dog, which I bought with my pocket money when I was 10, and he was a dog I raised, that I cared for. And he was in its teens when I was leaving. I was worried about how he would react. You know, I would be able to talk on the phone with my parents, I would miss them, but I could explain things to people, and he wouldn't know what happened. And I was also afraid he would not live to see me come back. But he did, though he unfortunately lived for only one more month after my return. So you know, it was't easy either, so it was... first, sport builds character, but it also was a kind of schooling. Some lady I met on the plane when I was first going there told me that I would either love or hate the city, but more probably love it because I was young. And I loved that city. The commotion did not annoy me. When I did not have classes and practice, I would take the underground, because my college was near the last station in Bronx, and I would go to Manhattan with a camera and I would just walk aimlessly and take photos. All in all, fantastic landscapes, cultural diversity, and apart from that I had cool friends there with which I spent time as well, we would sometimes wander together. I remember a few times I took a long ride on the underground to reach the Polish district, but I had to change lines a lot and I would be like, eh, not taking a third train, I'll just walk, and I would always lose my way in some Puertorican district and I could not find Greenpoint. And when I eventually did, I thought to myself that it was pretty funny there. I felt at home when some lady in a Polish shop cut into the line in front of me. And... You know, I missed my family, my friends. I would buy those cards to make phone calls. The time zone difference was like 6 hours so that also made things difficult. Going there was important and interesting. When I was driving to the airport, I looked at the scenery, wondering if I would ever see it again. I mean, I knew I would, if only I wanted to. And I would like to go there again and stay a bit longer.
Magda Świerczyńska-Dolot: After returning to Poland, Magdalena defended her thesis. She found a good job and left her sports career behind. After two years, she craved change again. She felt that something was telling her to go somewhere, to try something completely different in another world. After her first time, she wasn't afraid to leave again. That's when she met Łukasz in Gdańsk, now her husband, who had already been working in the UK. The solution was obvious. She went to join him.
Magdalena Raszewska: In general, I liked the UK, but it was totally different than what you see on TV. To be honest, there's a lot of degeneracy in the streets, functional illiteracy is rampant, and the accents. When I went to the states, I could speak English, but when someone would approach me in the streets out of the blue, I would be mentally unprepared and I would have to ask them to repeat what they said. It was the same in the UK, when a cashier in a Scottish supermarket said something to me, I could not understand her. When I was in the UK, I was still working for a former Polish employer, so I had some zlotys trickling down into my Polish account, but I was looking for a job. And I found a weekend job in a bookies. And I took that job. In general, I liked it, but started to like it less and less over time because it would start to wear me down. I had to learn the slang of the people there, because some people would spend a lot of time in a place like that. The boss told me to avoid greeting any of our clients should I meet them in the street because I might become known in that little town as a person who works in the bookies, and that client might not want to be associated with addiction to gambling, for example. Even more so if the client was with his wife. Julia, is daddy back?
Julia: No.
Magdalena Raszewska: Okay.
Julia: He came for a second.
Magdalena Raszewska: Really? And? Leaving again already?
Julia: Yes.
Magdalena Raszewska: Julia, want a cupcake?
Julia: Yes. Thank you.
Magdalena Raszewska: You're welcome. I could also feel that, if you're going somewhere not as a tourist, you should go to one of the English-speaking countries, while I have studied French, I don't know it that well. And in the countries where I can speak the language, I can hold a relatively interesting job which is somewhat related to my ambitions, if everything pans out, of course. And, at the same time, I can spend some time there, learn a new culture.
Magda Świerczyńska-Dolot: Four year old Julia knows that her parents had lived in the UK before she was born. Julia herself is learning English.
Julia: Mummy, is it true that I flew on a plane to the UK and Norway?
Magdalena Raszewska: Yes, you went on holiday with us.
Magda Świerczyńska-Dolot: Did you like the UK?
Julia: Yes.
Magda Świerczyńska-Dolot: What did you like about it, can you remember?
Julia: I forgot.
Magdalena Raszewska: Little Julia doesn't even realise that she was almost born in the UK. I mean, the plan was for her to be born in Poland. But the UK is where she spent the first 8 months of her life.
Julia: I can already speak English. But you learnt how to speak English differently. But not the same words.
Magda Świerczyńska-Dolot: What can you say in English?
Julia: No.
Magda Świerczyńska-Dolot: No, what does it mean?
Julia: No.
Magda Świerczyńska-Dolot: What else can you say?
Julia: Yes.
Magda Świerczyńska-Dolot: Which means what?
Julia: Yes.
Magda Świerczyńska-Dolot: Anything else?
Julia: I forgot.
Magdalena Raszewska: I can't remember any really negative or mixed feelings at the start. It was so exciting, starting a new life, as it were. At the same time, I still had ties to my homeland. I went there and I think I still had to hand in a term paper via mail. I was always in touch with my family. I was also looking for a job and I wasn't really lost. Like, I found my first job via an employment agency, unlike many Poles who I met there, and they would all recommend the employment agency to me, but I didn't want it, it was such a small town, let's be honest, it was the countryside, even though it was near Manchester. It was Norwich, 45 minutes away from Manchester I think, North-West England. But there weren't many jobs I wanted to do, and I didn't really want to work at a warehouse or a factory as I knew I would be stuck there for a while. I wanted to have a job that would look good on my resume after I came back to Poland, because I knew I wasn't going to spend my entire life in the UK. I did not want to have any problems with finding an interesting job here. So I was looking for a job, and I later became frustrated about not being able to find the one, so I juggled many jobs, because one was nice and not nice at the same time, like you could get 10 hours a week, 16, but I had 5 such jobs at one time getting me as much money as one job with a 40-hour week would get me. They work 37-hour weeks there. And it was simply exhausting, difficult to coordinate logistically and taxed unfavourably. And I was frustrated because I could not find a job I would find more or less interesting. And I started having problems with taking time off and visiting Poland because I would have to ask five bosses for time off work. Paradoxically, getting time off in those least ambitious jobs was the most difficult. And I eventually got it... Oh yeah, and the so called credit crunch started, the great financial crisis. My husband lost his job at that time, he found another one, but it took a while. So it was just tough. And that's when I found a nice job. It wasn't exactly what I wanted to do. I became a bilingual employee in a project at a county office. At first it was around a dozen hours per week, but it changed to full time after a few months and that's where I worked the longest. The job was nice, but I felt it lacked stability, would they carry on with the project or not? It was a project financed by the British government. We would give advice to immigrants, mostly Polish, Slovak, Slovene and others as well. We would translate and they took in three people, we all had our own responsibilities. Mine was writing a newsletter for the community, which was sizeable. Excuse me.
Julia: Quickly, run.
Magdalena Raszewska: Julia, what did I say about calling mummy? If you want something, come and say it. What's going on? A spider?
Julia: There's a spider on the stairs.
Magdalena Raszewska: It won't harm you. It's useful. It eats flies. And in that project, we worked with foreigners. In order to be politically correct, my boss would call them migrant workers, and that was the general trend in the UK, migrant or migrating workers. I never liked that because most people really did come for the economic benefits and to find work, but not everyone, take me for example, I quit my job in Poland to go there. And I also heard that "immigrant" is a pejorative term, that it has bad connotations, but I personally never had anything against being called an immigrant. That term "migrant worker" really drove me up the wall. That's because I did not have to migrate from Poland for work. And there was that stereotype I encountered a lot, and the Poles there perpetuated it themselves, that I fled unemployment, that there was poverty and unemployment in Poland, and that the UK was better when it comes to that in general. And for a very long time, my income in the UK was not any better than what I had been earning in Poland. It wasn't that easy to find my job. The region in which I lived back then had higher unemployment than Pomerania at that time, especially the Tri-city. Especially since the start of crisis, which did not affect us that much. So I felt obliged to dismantle that stereotype, but many Poles also perpetuated it. It's just that they weren't interested in migrating within Poland. They often came from towns where unemployment really was high, and they would go straight to the UK because they had friends there. And they would trash talk Poland.
Julia: And daddy has a spider, and it's in my room over there and watches his desk.
Magda Świerczyńska-Dolot: You did not trash talk Poland.
Magdalena Raszewska: No, because I like Poland. Some things are ran better here, some worse. For example, I remember many people being surprised to know that I wanted to give birth in Poland, and the midwives or whoever being surprised about it, and I would be like, "right, because the NHS is so great". I know that everyone in Poland complains about the health service, and I'm sure it could be improved and that there are queues, but I don't think they're any longer than they were in Great Britain, and it seems to me our specialists are better.
When I lived in the UK, I was already pregnant and it turned out that my daughter, I knew her sex, had a cyst, they just didn't know where in the abdominal cavity exactly it was. And they gave me a scare with that. And the technician, she wasn't a doctor, she would often perform ultrasound, and she scared me saying she could see something in there which is not usually seen in little girls, so I was really stressed out at that point. I talked to the doctor. I had ultrasound done a bit more often than usual in the UK, and apparently it was supposed to disappear, it could have been related to my hormone levels but they did not know if it would disappear and it would probably have to be removed. So I decided that it would probably be better to have the paediatric surgeons in Gdańsk remove it than let the ones in that hospital do it. The hospital did not have a good track record in the UK I think. Anyhow, I never trash talked Poland, I promoted the things which are good about it.
Magda Świerczyńska-Dolot: Magda says that she missed a few things in the UK. Things she had in Poland.
Magdalena Raszewska: Whenever I wanted Polish food, I would cook it for myself. There were Polish shops available. My husband would also wait for me with rissoles, which his flatmate had taught him how to make, because he knew I liked and missed them.
Julia: Mummy, I have pockets here.
Magdalena Raszewska: That's nice, honey. I missed the feeling of... I mean, I did feel very alien there, but I wanted to be treated more at home in the job market, I mean, the expectation was, since I could speak two languages, it would be best if I could help with interpreting for Poles and it was tough... the employment agency also offered a training programme concerning the job market and looking for work. The man teaching the course could not fathom the fact that I did not want to work as an interpreter because I could not pursue my ambitions that way. How could that be? Why did I want to do something they had no need for if they had a need for something that I could do? Why don't I want to use that skill? He almost got angry with me. That's how I felt. I wanted to work at a press agency or something related to marketing, just not telemarketing. And I knew that my accent was not BBC material and it could be tough, but I did make an attempt. And I felt it would be easier for me to find such a job in Poland.
Magda Świerczyńska-Dolot: Despite that, Magdalena has no trouble answering the question about what is easier in the UK. In comparison to our country of course.
Magdalena Raszewska: Everyday things are easier to get done. You can register your car by mail, get a lot of things done without standing in queues in offices. Another thing is, when you have a problem or your circumstances are extraordinary, you may encounter incompetence and have to prove to the official that you're in the right, but generally speaking, everything is well thought out over there. When it comes to things like founding a company or registering at a doctor's...
Julia: Mommy, when will you go to see the shop?
Magdalena Raszewska: Later, honey.
Julia: But it's a small shop.
Magdalena Raszewska: But let me see it later. I won't deny that it was nice, I felt like most of my income stayed in my pockets, say, when you're renting a flat, because I love and praise Poland, but the purchasing power of Poles, when it comes to buying, or even renting flats, it is smaller than in Great Britain. I also felt that everything was more within reach and that I could... I could afford more entertainment or travel. It's the one thing I miss in Poland a lot and I hope it will change at some point. In the UK, I could get monthly gym membership with a pool, sauna and everything for peanuts. It was not a luxury, it was affordable for everyone who had a job. And I could use the pool without any limits before work, after work, 6 AM to 10 PM, and in Poland, there might be offers like that, but I could not afford them, or there's just the gym. And it makes me so depressed that I, in order to go for a swim for like 45 minutes a week, I sometimes have to fight for a pool pass and have to pay for it as much as I had to pay for a whole month of unlimited swimming in the UK. I miss that a lot. Even more so since I would always go there with a friend, it was a place to relax and just talk.
Magda Świerczyńska-Dolot: Magda returned to Poland with her husband in her eighth month of pregnancy, but her wanting to give birth in Poland was not the only reason they returned.
Magdalena Raszewska: We decided to come back for various reasons. We are Polish after all. We knew we would eventually come back. I might not have known that it would happen so soon, as I returned after three years. My husband had an idea for a business and he did not want to wait any longer, he wanted to make the idea into reality. I also thought to myself that, if we had a little baby, it would be nice if the grandparents could see it. And my husband, very patriotically, wanted the baby to be born in Poland, to have Gdańsk in her birth certificate. There were many reasons.
Magda Świerczyńska-Dolot: Was it easy to adjust after coming back?
Magdalena Raszewska: Oh, it wasn't easy. It was also a totally new experience. It was the first time we lived together in Poland and all the sudden we're with our parents. Poland hasn't really changed over the past four years, so it's not like it was really a big... a big difference for me and I didn't have to relearn Poland because I was away for three years. I would visit often over the course of those three years, I was able to graduate with another degree. And I found my way, I found my first job, and then another. My husband also found a job, then started his own company, but after 2 years we decided that, even though it might've been going well enough, it was extremely draining and time-consuming for my husband, so he later found a job, we don't have a company anymore. And it's been going well ever since. Now we have two children.
Julia: Mummy, it showed up on my table.
Magdalena Raszewska: Mummy was cleaning and found it.
Julia: But it just showed up...
Magdalena Raszewska: It didn't do it on its own. Mummy put it there.
Julia: But it's a page from grandma Maja?
Magdalena Raszewska: It's a water tram ticket. I don't know where it came from.
Magda Świerczyńska-Dolot: Magdalena becomes nostalgic when reminiscing about her stay in the UK. She is happy to show me her photo albums.
Magdalena Raszewska: This is the album from the UK. I think this is a road going through Peak District. This is a well-known sight, the sheep on the mountainsides. We would sometimes go there – in the winter, summer, one time we went there on New Year's. Awesome landscapes. I think this is Wales. We were driving down that road and the landscape was nice, it was also in the winter and the mountaintops were covered in snow. You could see the beach, something unthinkable for Poland, you either have the beach or the mountains here. Unless it's a cliff. And that pink sunset. Here I think we arrived in...
Julia: Mummy.
Magdalena Raszewska: It was my first or second month in the UK, we went to Manchester, driving around the Chinese district. And here's another trip to Wales.
Julia: This is daddy, this is mummy. Hey, daddy has funny tails. I recognised mummy by her scarf because mummy has a scarf like that.
Magdalena Raszewska: The place we lived in was a good starting point for travelling. And here we went to a certain small town...
Julia: Goats.
Magdalena Raszewska: These are llamas, Julia, you know? They kept llamas there. And they approached the camera nicely. And here's a trip to Scotland. And here we're on a...
Julia: Daddy and mummy.
Magdalena Raszewska: ...ferris wheel in Manchester, similar to the one that's been set up for the second year in a row on Spichrzów Island. And here's an ending of sorts, a sunset.
Magda Świerczyńska-Dolot: While living in the UK, Magdalena started to make a documentary on Poles in transit camps. She says she has always been interested in history, and Great Britain also gave her a chance to look at the history of Poland from a little distance. It's been 4 years since she returned.
Magdalena Raszewska: I did not think I would live in Poland for so long, I also thought about going back to the UK after a few months, but it's becoming more and more blurred. I feel that I'm always going to miss the UK and the States a bit, and when I'm in another country, I'll miss Poland. In this respect I do feel like an emigrant.
Julia: [noise]
Magdalena Raszewska: You shouldn't interrupt us, Julia honey. You need to wait for someone to finish and then speak.
Julia: Daddy is on a bike, he is on a bike and is holding me by the stick in the back, which is sticking out of my bike to teach me how to ride.
Magdalena Raszewska: Had I not come back to Poland, It's possible I would be back there, frustrated that I might have a nice job in the UK, but not quite, that I'm not pursuing my ambitions fully. Here in Poland, and my accent and nationality do not disqualify me in any way. This is how I see my career, it's important to me not as a financial success, even though I do work to support myself, but I am ready to work a job that is interesting for a slightly lower pay instead of a less interesting job for a pay that is a little higher. So I feel that Poland is better for my career at this point. I consider myself a patriot, but one that would still want to travel a bit. I've obviously missed my homeland, but I did not really spend that much time abroad and I would visit often. I had frequent contact with Poles abroad as well, as part of my responsibilities at work, for instance, so I didn't really feel that nostalgic, and I would explore my patriotism by promoting what was best about us. At the same time, I wouldn't want to leave Poland forever. But we're still young, I would still like to see what life's like in another country. Especially since, when you have two children, you don't always have the money for faraway tourist travels. And it's also a huge logistical effort. Moving is also an even bigger logistical effort, but it's not out of the question.
Magda Świerczyńska-Dolot: This was the fifth episode of "Emigrant's Diary", our guest was Magdalena Raszewska, who spent a year in the United States and three years in Great Britain. This programme is brought to you in collaboration with the Emigration Museum in Gdynia as part of the "Ask about Poland" project. Stefan Kotiuk – director and Magda Świerczyńska-Dolot, thank you for listening to us this evening, good night.