I did not decide to live in Italy out of passion for the fine arts or for its pleasant climate, but for political reasons. At the time of the martial law on 13 December, 1981, together with my two small children I was in Warsaw, waiting for the return of my husband Jacek from Rome, scheduled for the following day. We were both involved in the activities of, associated with the Committee for Workers' Defense, underground Nowa publishing house, the consequence of which was questioning, detention and searches experienced by us and our family. Our colleagues and friends were interned or hiding. My husband in the event of return was threatened with internment, so although phones did not work, through friends journalists abroad we were able to communicate and decided that he would stay in Italy, and I would apply for a passport. Jacek was one of the founders and the first chairman of the Committee of Solidarity with "Solidarity", formed in Rome in collaboration with the federation of Italian CGIL-CISL-UIL trade unions. Thanks to a cooperation contract with a famous Italian architect, I managed to get a passport to travel with children to Rome.
In April 1982 I left gray, very sad communist Warsaw to sunny Caput Mundi, but then I didn't enjoy the sun because it was forced, unwanted emigration.
The Italian opposition
The first years were a difficult struggle for existence, there was not much time for art. The collaboration through the Committee of "Solidarity" with Italian trade unions, institutions, political parties supporting "Solidarity" and the opposition in Poland during the martial law was a natural continuation of the underground activities in Poland. I received orders to design posters and placards that were printed in large quantities and hung in various parts of the Italian peninsula, mostly in Rome. They reminded Italians that far behind the Iron Curtain there was Poland, suffering, poor, but determinedly fighting for its freedom, independence, democracy. My small children, looking at the advertising column near the playground and carousel, cried out: "Look, Mom, our posters are hanging!"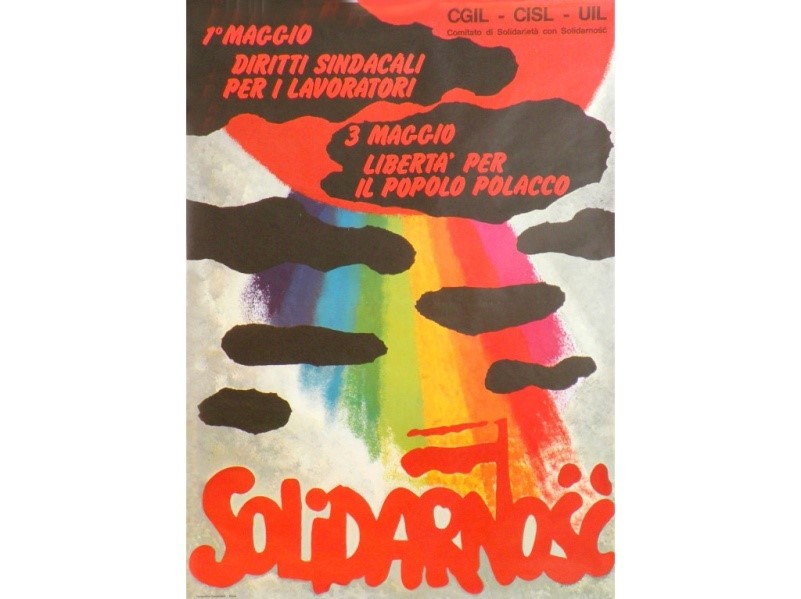 Posters of Maria Pałasińska reminded Italians of the ongoing struggle of "Solidarity" in Poland, from the private archives
In 1985, UIL trade union organized a collective exhibition in Rome, which later toured many Italian cities – "100 posters from around the world – »Solidarity« is alive – long live »Solidarity« ". There were as many as 10 my posters, but I could not sign them (at most with my initials), because in those days it was not known how the history would unfold and whether the family in Poland would not suffer because of me.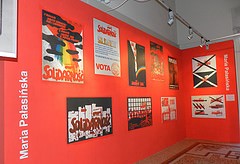 Exhibitions of Solidarity posters of Maria Pałasińska were held both in Italy and in Poland, from the private archives
Recently my Solidarity posters were presented on different exhibitions organized in Italy (e.g. "The tissue paper – the second circuit" at the Polish Institute in Rome and "Solidarity" in the documents of Feltrinelli Foundation"
in Milan and Rome) and in Poland (e.g. "The end of Yalta" at the Karta Center and "Turn off the system. Relay for freedom. 1976-1989" in Warsaw). In Italy I handed over the posters to Feltrinelli Foundation, which gathers the largest outside Poland collection of documents on "Solidarity", and in Poland – to Karta Center.
Graphic works
My first project realized in Italy I owe to invaluable Father Adam Boniecki. As the director of the Polish edition of "L'Osservatore Romano" he ordered from me a poster advertising the magazine in Polish parishes around the world. It was the first work in my Italian portfolio, empty for several months, as I did not bring any of my achievements from Poland, because I had to pretend that I was leaving only for four months. The works which I was most proud of were printed in the underground Nowa publishing house, so I preferred not to risk smuggling them when I traveled with children. Twenty years later for the activities for the underground publishing house I was awarded the Order of Merit to Culture by the Minister of Culture and National Heritage.
It was not easy, but eventually I managed to establish professional contacts in the field of the applied graphic design, mostly publishing design. Italians in those years, in spite of their great kindness and support for "Solidarity", were not open to cooperation with foreigners from the East, they treated us with disbelief, doubted if we were able to work on a good level. This was due to their complete ignorance of the world behind the Iron Curtain, the vision of the white bears roaming through the streets of Warsaw was widespread.
I only started learning Italian, but fortunately my profession of a graphic designer is one of the few that can be practiced without good knowledge of the language. The graphic language is almost universal, though in different countries and in different environments some graphic signs, however, have different meanings. I had to learn how to adapt my art education from the Warsaw Academy of Fine Arts to the tastes of the Italian public, and particularly to the requirements of customers ordering my projects. In Italy in those years too original, too bold solutions, were not too willingly accepted. We in Poland were accustomed to the fact that what is important is an idea; that you have to offer something intelligently contrived, something innovative, something that gives food for reflection, paying less attention to aesthetics. Italian clients think conversely: the design should not make the recipient tired, while the aesthetics of the design is always important. I had to adapt, but I tried hard to find such customers who were interested in the original proposals and a few times I was lucky to reach the appropriate environment.  In the 1980s, at the request of the Lithuanian Embassy to the Holy See, I designed posters calling for religious and political freedoms in Lithuania. At that time the Lithuanian state did not exist, Lithuania was a Soviet republic, only the Vatican still honored the independent Republic of Lithuania as prior to 1940. Realization of projects for the underground Solidarity, or enslaved Lithuania gave me a sense of usefulness of my work.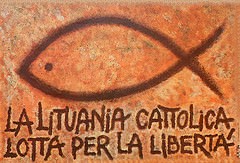 A poster demanding freedom of religion and political sovereignty for Lithuania, from the private archives
In the 1980s, at the request of the Lithuanian Embassy to the Holy See, I designed posters calling for religious and political freedoms in Lithuania. At that time the Lithuanian state did not exist, Lithuania was a Soviet republic, only the Vatican still honored the independent Republic of Lithuania as prior to 1940. Realization of projects for the underground Solidarity, or enslaved Lithuania gave me a sense of usefulness of my work.
I cooperated with Italian publishing houses, designing covers of books and magazines, layouts of magazines and books, advertising and information materials.
An interesting thing for me was to work for religious publications, such as "Messaggero di Sant'Antonio" in Padua, "San Francesco Patrono d'Italia" from the Basilica in Assisi or for the Fatebenefratelli monastery in Rome. These are very important centers of the Catholic and ecumenical culture, running broad publishing activities, directed to the whole world. I also had the honor to design for CEI – Italian Episcopal Conference. My posters and brochures were in all Italian parishes.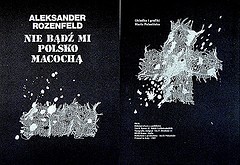 One of the most inspiring and interesting orders of Maria Pałasińska - graphic design of religious publications, from the private archives
In Padua I could take the experiment of designing a series of religious publications without reference to the figurative tradition of the Christian art.
Referring to the theory and practice of the twentieth century art, I was building with the color and form the mood corresponding to the content of individual topics. With great satisfaction I designed a series of book publications and many book covers and dust jackets for books and magazines. These are the projects that I like very much, because they are religious, liturgical publications, books on the spiritual life and prayer. And although they were published were often in very high volumes, fortunately nobody required from me a purely illustrative approach. At this point the world of religion and the world of art came closer to each other. My design became very painterly and spiritual. Made with different techniques, characteristic of contemporary art, the abstract compositions were received with great interest as something completely new in the environment.
In 1987, me and my husband met Alek Rozenfeld, who trying to re-emigrate from Israel to Poland, stopped in Rome. To publish poems of the poet-wanderer ( "Poland, do not be a stepmother to me") we established with my husband a tiny publishing house PSIK editore. We were interested not only in Polish affairs; for example, in cooperation with other publishers we published in Italian, French and German languages memories of the famous Polish Himalaya climber Jerzy Kukuczka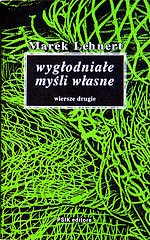 Designs of covers by Maria Pałasińska, from the private archives
We also dealt with publication of religious texts in Old Church Slavonic language, intended for smuggling into the Soviet Union. All our books I developed graphically on my own, I also made the illustrations. I also designed with great pleasure poetry books for PSIK (I did it also for Nowa publishing house, for instance Kazimierz Wierzyński's "Crosses and swords"). One of the poetry books issued by us, Marek Lehnert's "Hungry own thoughts", was exhibited in 1998 at the exhibition "Polish Book Art" accompanying the International Book Fair in Warsaw, Krakow and other cities.
Ecoreliefs
In the 1990s I began to create "ecorilievi" – ecoreliefs. By combination of the word relief with "eco", associated with ecology, I wanted my works to be named with one word, without long explanations. Created by me objects-items-artifacts, although they do not belong to the aplied art, are designed, so they are the result of specific processes of analysis and synthesis. I paint, but it is not painting in the traditional sense of the word, my compositions are three-dimensional, but calling them the sculpture would not be accurate. To avoid complicated translations, I came up with my own name for my technique: ekoreliefy (in Polish), ecorilievi (in Italian) and ecoreliefs (in English). In Italian eco means not only "environment", but also "echo". Ecoreliefs are ecological and they are an echo of their own past.