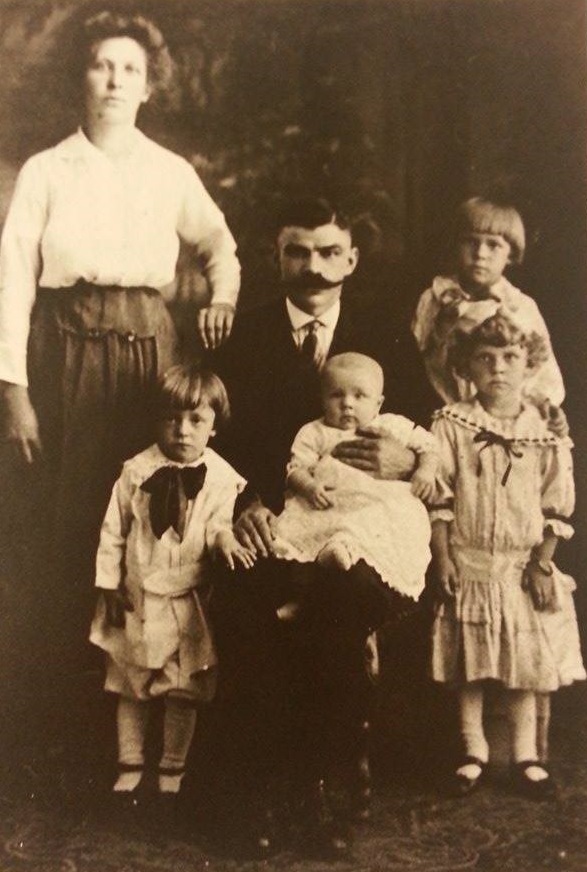 Julianna and Teofil Jóźwik with children
Teofil Józwik, a son of Marianna and Franciszek Majewski, was born in 1886 in the village of Łaziska, in the commune of Iłów near Płock. He was a blacksmith. Since the time of his grandfather Mateusz, born in 1831 in Życk near Płock, all men in the Józwik family were blacksmiths. Teofil Józwik died in 1976 in the village of Sarnów and was buried in a cemetery in Giżyce. He lived to be 90 years old.
Teofil could read and write. His father Franciszek during the winter hosted in his house teachers from a school in Sochaczew, because during the time of frost the school was closed. Thanks to the courtesy of Franciszek children from more progressive families in the village could acquire education also in the cold months. The teacher had room and board, and he received payment mostly in kind, in the form of rural products.
Teofil Józwik served in the tsarist army in Odessa in the years 1906-1911. In the family there is repeated a story how he came to the home country for a leave of absence. When he reached Warsaw, he changed immediately in civilian clothes. During the further travel by carriage he was stopped by the police (flat foot as he said) and immediately they brought him back to the unit in Odessa. That was the end of his short visit to the home country.
Wedding and departure
February 2, 1912 Teofil married Julianna Krysztowiak, a daughter of Feliksa Jażdżyk and Józef Krysztowiak. Julianna was born in 1891 in the village of Stegna, in the commune of Iłów, died in 1978 in Sarnów. She was buried as Teofil in a cemetery in Giżyce. She lived to be 87 years old.
In the same year as their wedding, Teofil Józwik was escorted to the Vistula river. It was probably in the summer. Apparently, he traveled to Germany by waterway. After reaching Hamburg, he emigrated to the United States. There is also information that there was a plague in Hamburg and there died Józef Józwik, an elder brother of Teofil, also emigrating to America. There is in the family a document in the Russian language sent from Hamburg, informing about his death. Maybe I will manage to get the document back. Then we will know the year when it happened.
Julianna Józwik in December 1912 gave birth to a son Kazimierz. In 1913, with one year old child, she emigrated to her husband to the United States. Teofil worked there at a roller blinds factory. He also had a second job in a factory producing steam engine wheels.
The Józwik family settled in Chicago. At their home they rented a room for single emigrants. There were then beer-houses, where single emigrants spent a lot of time. Promotions were popular in America at that time, food products – mainly cakes and pies – in the evening were cheaper.
Julianna Józwik sang often a many-verse song composed by emigrants. Maybe someone who knows the rest of it will turn up – I remembered only: "and when we stand in the harbor, brothers, we will stand, poor orphans, and once again I will bow in front of Poland, I will get on a wide ship".
During the stay of the Józwik family in the US, around 1919, an economic crisis took place. According to Teofil's accounts, the US government turned to citizens and emigrants for a loan. The document ("paper" as Teofil said) certified that the loan given to the state was cancelled. Teofil never accepted often proposed to him US citizenship.
Teofil and Julianna's children
In the United States the Józwik family had three children. The first was a daughter – Anna, born June 26, 1914 in Chicago. She died on February 12, 1992 in Wrocław as Anna Piątkowska.
The second was a son Michał, who was born September 27, 1915 in Chicago. During World War II, he participated in the US-Japanese battles in Hawaii and the Philippines. He was a war veteran. After returning from the front, he married Stanisława Walczak, born in 1920 daughter of Polish immigrants. Stanisława and Michał have two sons, as well as grandchildren and great-grandchildren.