Nie zamieszkałam we Włoszech z powodu zamiłowania do sztuk pięknych albo przyjemnego klimatu, tylko z powodów politycznych. W momencie ogłoszenia stanu wojennego 13 grudnia 1981 roku wraz z dwójką moich małych dzieci znajdowałam się w Warszawie, czekając na planowany na następny dzień powrót męża Jacka z Rzymu.
Oboje byliśmy zaangażowani w działalność związanego z KOR-em podziemnego wydawnictwa Nowa, czego konsekwencją były przesłuchania, zatrzymania i rewizje u nas i rodziny. Nasi koledzy i przyjaciele zostali internowani lub się ukrywali. Mężowi w razie powrotu groziło internowanie, więc choć nie działały telefony, za pośrednictwem znajomych dziennikarzy za granicą udało się nam porozumieć i zdecydować, że on zostanie we Włoszech, a ja będę starać się o paszport. Jacek był jednym z założycieli i pierwszym przewodniczącym Komitetu Solidarności powstałego w Rzymie przy federacji włoskich związków zawodowych CGiL-CISL-UIL. Dzięki kontraktowi na współpracę ze znanym włoskim architektem udało mi się uzyskać paszport na wyjazd z dziećmi do Rzymu.
W kwietniu 1982 roku wyjechałam z szarej, bardzo smutnej komunistycznej Warszawy do słonecznego Caput Mundi, ale wtedy nie cieszyłam się tym słońcem, gdyż była to wymuszona, niechciana emigracja
Włoska opozycja
Pierwsze lata były trudną walką o byt, na sztukę nie było wiele czasu. Naturalną kontynuacją działalności podziemnej w Polsce była współpraca poprzez Komitet "Solidarności" z włoskimi związkami zawodowymi, instytucjami, partiami politycznymi wspierającymi "Solidarność" i opozycję w Polsce w czasie stanu wojennego. Dostawałam zlecenia na projekty plakatów i afiszów, które drukowane były w dużych nakładach i rozwieszane w różnych zakątkach Półwyspu Apenińskiego, najwięcej w Rzymie. Przypominały one Włochom, że daleko za żelazną kurtyną jest Polska, cierpiąca, biedna, ale z determinacją walcząca o swoją wolność, niepodległość, demokrację. Moje kilkuletnie dzieci, patrząc na słup ogłoszeniowy w pobliżu placu zabaw i karuzeli, wołały: "Patrz, mamo, nasze plakaty wiszą!".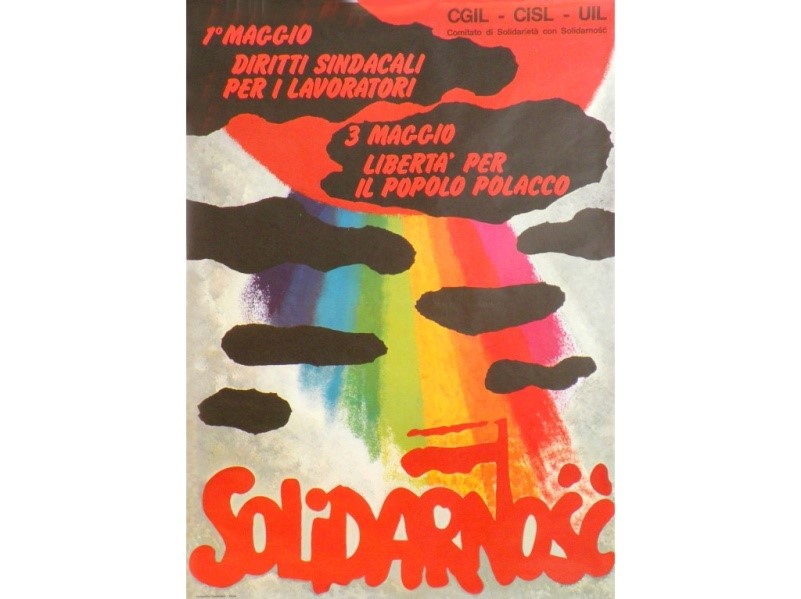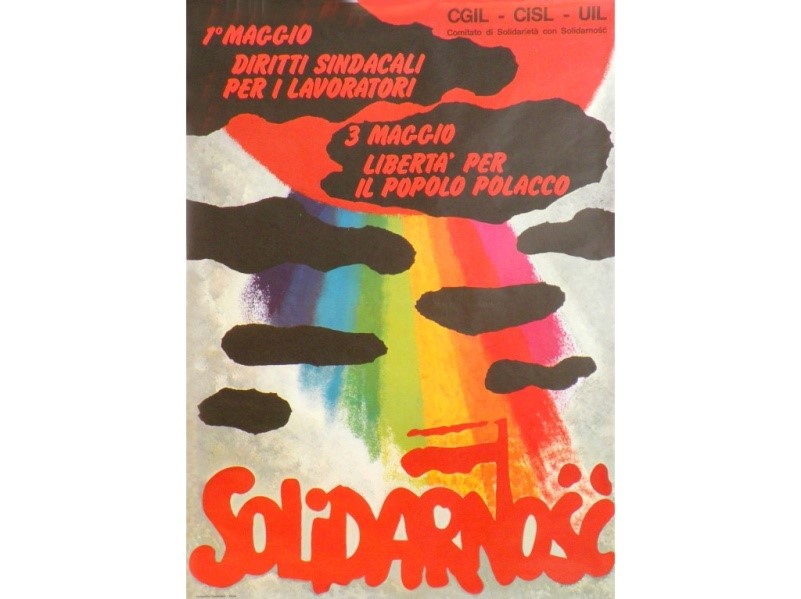 Plakaty Marii Pałasińskiej przypominały Włochom o toczącej się w Polsce walce "Solidarności", fot. archiwum prywatne
W 1985 roku związek zawodowy UIL zorganizował w Rzymie wystawę zbiorową, która później objechała wiele włoskich miast – "100 plakatów z całego świata – »Solidarność« żyje – niech żyje »Solidarność«". Moich plakatów było aż 10, ale nie mogłam ich podpisać (najwyżej inicjałami), gdyż w tych czasach nie wiadomo było, jak potoczy się historia i czy rodzina w Polsce nie ucierpi z mojego powodu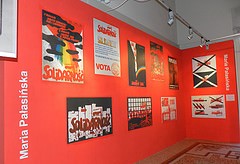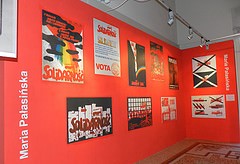 Wystawa zbiorowa "100 plakatów z całego świata - »Solidarność« żyje – niech żyje »Solidarność«, fot. archiwum prywatne
Ostatnio moje solidarnościowe plakaty znalazły się na różnych wystawach organizowanych we Włoszech (np. "Bibuła – drugi obieg" w Instytucie Polskim w Rzymie oraz "Solidarność" w dokumentach Fundacji Feltrinelli"
w Mediolanie i Rzymie) i w Polsce (np. "Koniec Jałty" Ośrodka Karta oraz "Wyłącz system. Sztafeta do wolności. 1976–1989″ w Warszawie). We Włoszech plakaty przekazałam Fundacji Feltrinelli, gromadzącej największy poza Polską zbiór dokumentów dotyczących "Solidarności", a w Polsce – Ośrodkowi Karta.
Prace graficzne
Mój pierwszy projekt zrealizowany we Włoszech zawdzięczam nieocenionemu księdzu Adamowi Bonieckiemu. Jako dyrektor polskiego wydania "L'Osservatore Romano" zamówił u mnie plakat reklamujący ten miesięcznik w polskich parafiach na całym świecie. Była to pierwsza praca w moim włoskim portfolio, pustym przez kilka miesięcy, gdyż nie przywiozłam żadnych swoich dokonań z Polski, bo przecież musiałam udawać, że wyjeżdżam tylko na cztery miesiące. A prace, z których najbardziej byłam dumna, wydrukowane były w podziemnym wydawnictwie Nowa, więc wolałam nie ryzykować szmuglowania ich, kiedy wyjeżdżałam z dziećmi. Dwadzieścia lat później za działalność na rzecz wydawnictw podziemnych dostałam Odznakę Zasłużonego Działacza Kultury przyznaną przez Ministra Kultury i Dziedzictwa Narodowego.
Nie było to łatwe, ale z czasem udało mi się nawiązać kontakty zawodowe w dziedzinie grafiki użytkowej, głównie wydawniczej. Włosi w tamtych latach, mimo ich wielkiej życzliwości i poparcia dla "Solidarności", nie byli otwarci na współpracę z cudzoziemcami ze Wschodu, traktowali nas z niedowierzaniem, wątpili, czy możemy pracować na dobrym poziomie. Wynikało to z ich kompletnej nieznajomości świata zza żelaznej kurtyny, wizja białych niedźwiedzi snujących się po ulicach Warszawy była rozpowszechniona.
Włoskiego dopiero się uczyłam, ale na moje szczęście zawód projektanta graficznego to jeden z nielicznych, który można uprawiać, nie znając dobrze języka. Język grafiki jest prawie uniwersalny, choć w różnych krajach i w różnych środowiskach pewne znaki graficzne mają jednak odmienne znaczenie. Musiałam nauczyć się, jak moje wykształcenie plastyczne z warszawskiej ASP przystosować do gustów włoskich odbiorców, a zwłaszcza do wymagań klientów zamawiających u mnie projekty. We Włoszech w tamtych latach rozwiązania plastyczne zbyt oryginalne, zbyt śmiałe, nie były chętnie przyjmowane. My w Polsce byliśmy przyzwyczajeni do tego, że ważny jest pomysł; że trzeba zaproponować coś inteligentnie wymyślonego, coś nowatorskiego, coś co skłania do myślenia, mniej przywiązując wagę do estetyki. Włoscy zleceniodawcy rozumują odwrotnie: należy tak projektować, żeby odbiorca nie musiał się męczyć, za to estetyka projektu jest zawsze istotna. Musiałam się dostosować, ale usilnie starałam się o znalezienie takich klientów, którzy byli zainteresowani oryginalnymi propozycjami i parę razy miałam szczęście trafić na odpowiednie środowiska.
W latach 80. na zlecenie ambasady litewskiej przy Stolicy Apostolskiej projektowałam plakaty domagające się swobód religijnych i politycznych na Litwie. Wtedy państwo litewskie nie istniało, Litwa była republiką radziecką, jedynie Watykan nadal uznawał niepodległą Republikę Litewską sprzed 1940 roku. Realizacja projektów na rzecz podziemnej Solidarności, czy zniewolonej Litwy dawała mi poczucie użyteczności mojej pracy.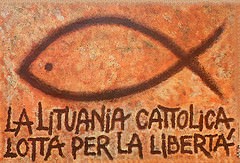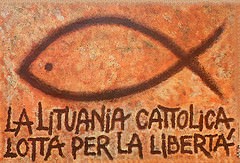 Plakat dopominający się o swobodę wyznania religijnego i polityczną niepodległość Litwy, fot. archiwum prywatne
Współpracowałam z włoskimi wydawnictwami, projektując okładki do książek i czasopism, układy graficzne czasopism i książek, materiały reklamowe i informacyjne.
Interesująca dla mnie była praca dla wydawnictw religijnych, takich jak "Messaggero di sant'Antonio" w Padwie, "San Francesco Patrono d'Italia" z Bazyliki w Asyżu czy dla zakonu Fatebenefratelli w Rzymie. To są bardzo ważne ośrodki kultury katolickiej i ekumenicznej, prowadzące bogatą działalność wydawniczą, skierowaną na cały świat.
Miałam również zaszczyt projektować dla CEI – Konferencji Episkopatu Włoskiego. Moje plakaty i broszury znalazły się we wszystkich włoskich parafiach.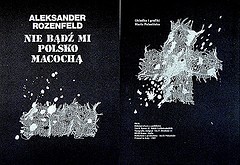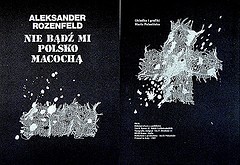 W Padwie mogłam podjąć eksperyment projektowania serii wydawnictw religijnych bez odwoływania się do figuratywnej tradycji sztuki chrześcijańskiej.
 Nawiązując do teorii i praktyki sztuki XX wieku, budowałam kolorem i formą nastrój odpowiadający treściom poszczególnych tematów. Z dużą satysfakcją projektowałam książkowe serie wydawnicze oraz wiele okładek i obwolut do książek i czasopism. Są to projekty, które bardzo lubię, ponieważ są to wydawnictwa religijne, liturgiczne, książki o życiu duchowym, o modlitwie. I choć publikowane były często w bardzo wysokich nakładach, na szczęście nikt ode mnie nie wymagał podejścia czysto ilustracyjnego. W tym punkcie zbliżył się świat religii i świat sztuki. Moja grafika stała się bardzo malarska i uduchowiona.Wykonywane różnymi technikami, charakterystycznymi dla sztuki współczesnej, kompozycje abstrakcyjne przyjęto z dużym zainteresowaniem jako coś zupełnie nowego w tym środowisku.
W 1987 roku mój mąż i ja poznaliśmy Alka Rozenfelda, który usiłując reemigrować z Izraela do Polski, zatrzymał się w Rzymie. Aby opublikować wiersze poety-tułacza ("Nie bądź mi Polsko macochą") założyliśmy z mężem maleńkie wydawnictwo PSIK editore. Interesowały nas nie tylko sprawy polskie; na przykład we współpracy z innymi wydawnictwami opublikowaliśmy w językach włoskim, francuskim i niemieckim wspomnienia słynnego polskiego himalaisty Jerzego Kukuczki.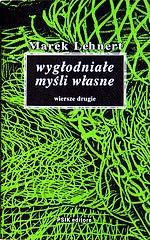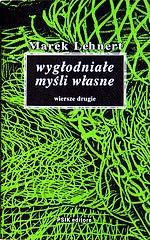 Projekty okładki autorstwa Marii Pałasińskiej, fot. archiwum prywatne
Zajmowaliśmy się też publikacją tekstów religijnych w języku staro-cerkiewno-słowiańskim, przeznaczonych do przemycania do Związku Radzieckiego. Wszystkie nasze książki sama opracowałam graficznie, wykonałam też ilustracje.Z przyjemnością projektowałam tomiki poezji dla PSIK-a (robiłam to też dla oficyny Nowa, np. "Krzyże i miecze" Kazimierza Wierzyńskiego). Jeden z wydanych przez nas tomików, "Wygłodzone myśli własne" Marka Lehnerta, wystawiany był w 1998 roku na towarzyszącej Międzynarodowym Targom Książki wystawie "Polska Sztuka Książki" w Warszawie, Krakowie i innych miastach.